Silhouette Instalift
Add Long-Lasting Lift and Volume to the Face with an Advanced Thread Lift in Milwaukee, WI
Skin laxity on the face and neck is caused by many factors, including fat and bone loss, a gradual descent of fat pads throughout the face, and a reduction of collagen and elastin, which maintain strength and elasticity in the skin.
The triangle of youth and beauty—which is characterized by high cheekbones, contoured cheeks, and a defined jawline—inverts with time.
This results in flatter, less contoured cheeks, while the lower face/jawline become heavier and wider. Silhouette InstaLift® from our Milwaukee-based practice is an advanced, non-surgical option for subtly lifting skin that has lost its elasticity, restoring youthful contours for a rejuvenated look.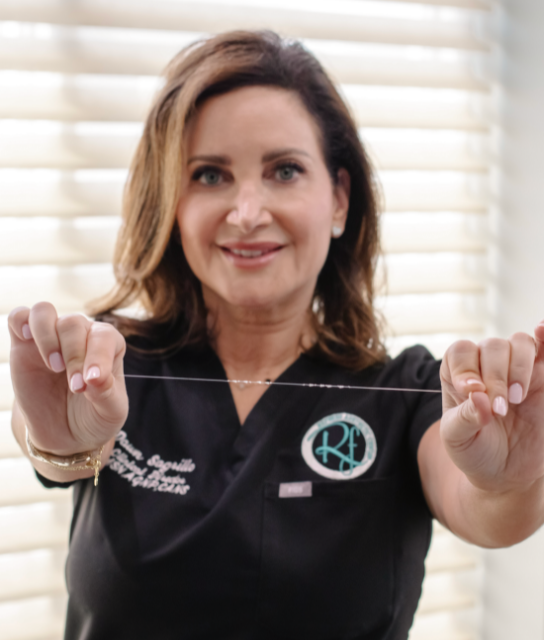 Silhouette InstaLift Experience
So what is the Silhouette Instalift Experience in Milwaukee, WI?
When patients want a lift and contouring for the mid and lower face lift, and other nonsurgical treatments have reached their maximum potential, Silhouette InstaLift may be the next best less-invasive option.
Silhouette InstaLift® is an ideal choice for patients who want a less invasive alternative to surgery with minimal downtime. The procedure may not be suited for patients who have very thin facial skin (which would allow the sutures to be visible or felt beneath the skin), who have very thick skin, or who have infections, foreign body sensitivities, or allergies to plastic or biomaterial.
During your consultation, our Aesthetic Nurse Specialists and Nurse Practitioners will talk to you about your aesthetic goals, your past and current skin care routine, your medical history, and the benefits of Silhouette InstaLift® to help you decide whether this is the most suitable choice for you. The treatments are handled with care so that patients are comfortable in addition to getting beautiful and natural-looking results.