Neuromodulators:

Botox, Dysport & Daxxify
Relax Signs of Facial Aging and Reduce the Appearance of Dynamic Wrinkles in Milwaukee
BOTOX® Cosmetic is the most well-known aesthetic injectable treatment in the world, used for reducing the appearance of facial wrinkles, enhancing facial features, and preventing specific signs of aging. We offer BOTOX® in Milwaukee at ReFresh Aesthetic Center® because of its versatility, reliability, and safety. BOTOX® can diminish fine lines and wrinkles between the brows, around the eyes, and around the mouth, as well as be used for eyebrow shaping and enhancement, brow lifting, and facial sculpting of the nose, lips, jawline, neck, and corners of the mouth. It can also be used to diminish underarm sweating. Each treatment is customized to the client's needs and desires.
Dysport® is a neuromodulator, which is the technical name for aesthetic injectables that target facial wrinkles by reducing key muscle contractions.
A lifetime of squinting, frowning, and other facial expressions gradually creates furrows and lines considered to be visible signs of aging. Inhibiting activity in the muscles that work to help make those expressions can prevent the associated wrinkles from showing.
Dysport® vs. BOTOX®
Dysport® is most used to reduce frown lines and other lines in the upper face; however, it also can have a brow and eye-brightening effect. It works in much the same way as BOTOX®, but clients may notice that its effects appear a little sooner. The ReFresh Aesthetic Center® team will work to make sure the ideal treatment is paired with each specific client, considering cosmetic goals and more.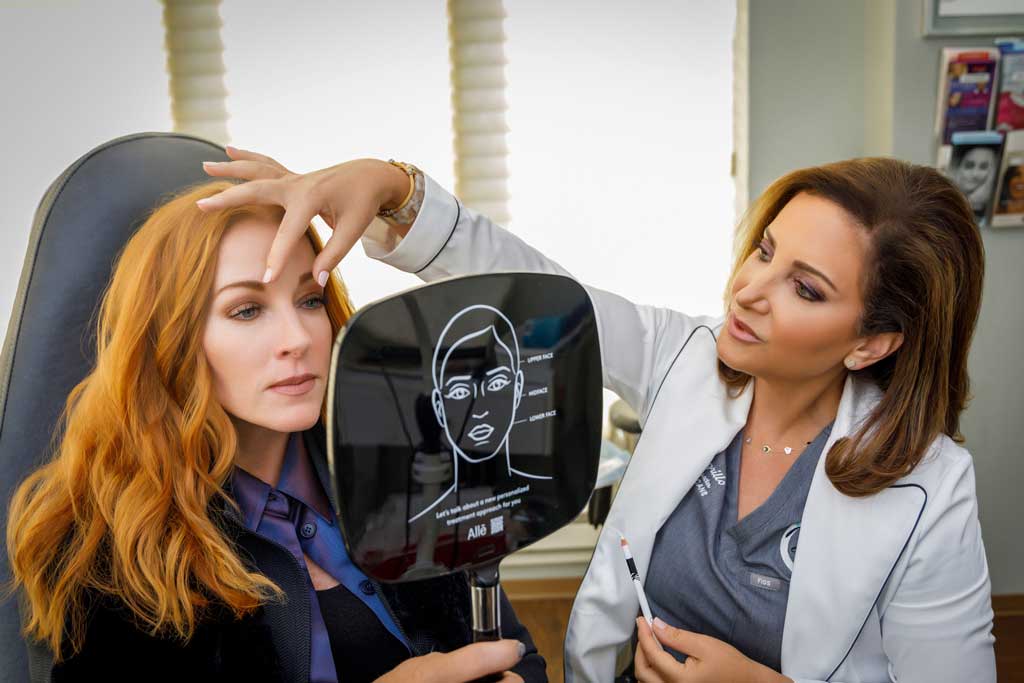 Daxxify®
The latest neuromodulator (injectable wrinkle relaxer) on the US market is Daxxify®. This novel product can offer a longer lasting result. Depending on the area/s of treatment, both Botox® and Dysport® treatments typically last three to four months, whereas, Daxxify® will typically last two to three months longer, with appropriate dosing.
Daxxify® has a similar safety profile as Botox® and Dysport®, and is the only vegan product of its type and the first to be manufactured in the US.  Just as with our other neuromodulator treatments, we customize dosing (units) for the targeted muscles/treatment areas. The formulation of Daxxify® makes it unique in that its formulation includes proprietary peptide technology, which may be considered a more modern version of neurotoxin treatments.