Laser Hair Removal
Keep Your Skin Silky Smooth at ReFresh Aesthetic Center
®

in Milwaukee
For men and women seeking a more permanent alternative to shaving, plucking, waxing, or electrolysis, we offer professional treatments for laser hair removal at Milwaukee's ReFresh Aesthetic Center® to keep your skin stubble-free.
The term "removal" is frequently used interchangeably with "reduction," but no matter what you call it, the result is skin that is smooth and bare instead of fuzzy or prickly.
We rely on the Lumenis Light Sheer Duet® laser for reduction treatments, preferring this "new generation" technology because it is particularly fast and safe, delivers reliable results, and works on a wide range of skin types, including darker pigmentations.
Suggested treatment packages may vary depending on the size of the area being treated. We will discuss your treatment options with you during your consultation at our Whitefish Bay office.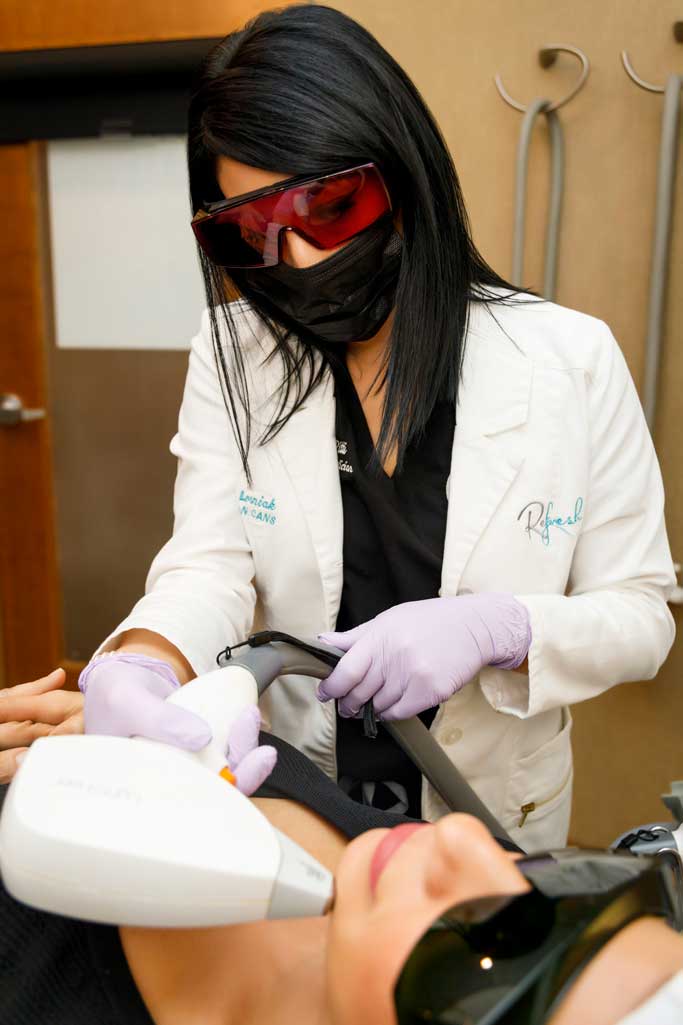 How Does Laser Hair Removal Work?
A laser hair removal treatment utilizes pulses of controlled laser energy that, when emitted into the skin, bypass the surface and are absorbed by the dark melanin found in hair follicles.
The laser energy then converts to gentle heat, which disables the follicles and prevents hair from re-growing properly in the targeted areas. No anesthetic or topical gels are required, as the treatment is both well-tolerated and fast. A session focusing on the legs or back can be completed in as little as 15 minutes.
After a full round of laser hair removal sessions, the treated area should be free of new hairs growing for the foreseeable future. While it is possible for follicles to shut down, they typically eventually continue to produce hairs, though these may be lighter in color and finer than what grew previously. Women and men who want to maintain their bare results can schedule maintenance visits for long-term hair-free skin.