Dermal Fillers
Add Volume for a Younger Look in Milwaukee
Aging skin reveals the passage of time in many ways. Over time, wrinkles form, folds develop, and facial contours change as fat diminishes and shifts. A range of age-related conditions calls for a range of solutions, which is why ReFresh Aesthetic Center® offers so many types of dermal fillers for the Milwaukee area.
All dermal fillers offered at ReFresh Aesthetic Center
®

are FDA approved and are made of either hyaluronic acid—a substance that is naturally produced in the body to hydrate the skin—or biocompatible products that can stimulate collagen production.

With the expertise of our experienced and certified aesthetic practitioners, these dermal fillers can address fine lines and wrinkles and replenish your skin's lost volume by providing support and stimulating your own natural collagen to grow.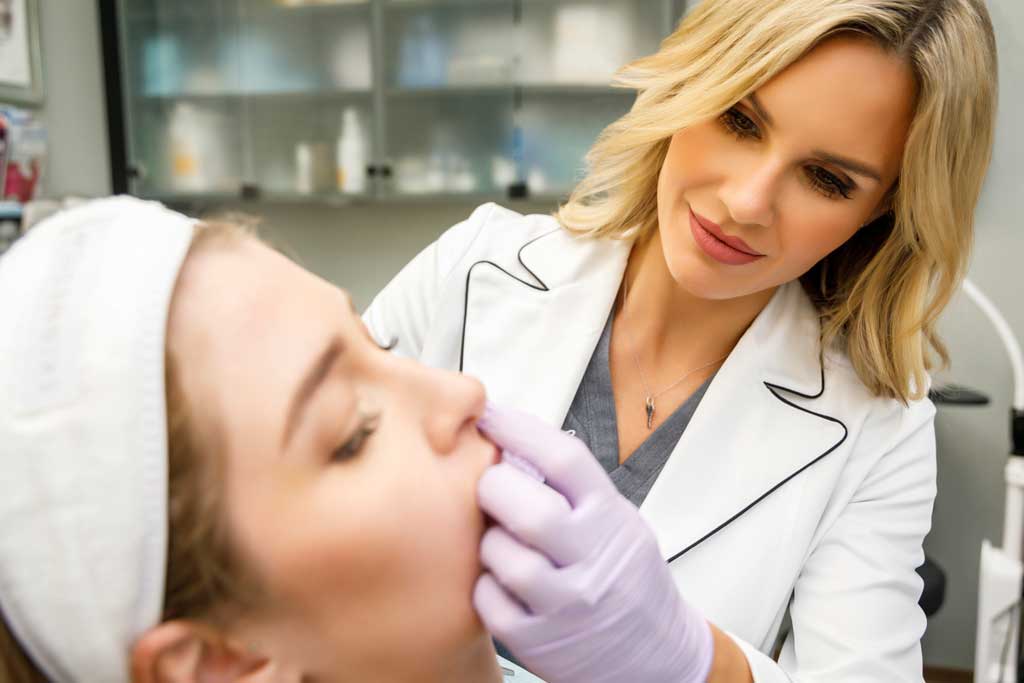 Juvederm Family
This robust family of injectables can restore lost volume to smooth out wrinkles, create more youthful facial contours, or augment certain areas if you simply want to add more plumpness and definition.
Juvederm Ultra® and Ultra® Plus
Juvederm Ultra® and Ultra® Plus
Ultra® is ideal for adding volume to thin lips, making them plumper and fuller. Your treatment will take about an hour, and you will probably need just one treatment to achieve the results you desire. Both Ultra® and Ultra® Plus also target wrinkles and folds, but Ultra® Plus is more effective for deeper lines and folds.
Juvederm Voluma® XC
The natural aging process can cause a loss of volume and contour to the cheeks/midface, leading to a sunken, flattened, and hollow appearance. Voluma® XC treatments can help maintain the natural shape and contour of your cheeks/midface with long-lasting results and minimal downtime. The hyaluronic acid in the formula binds with water within the skin to create volume and lift to the midface/cheekbones that is visible right away and can last for up to two years with optimal treatment.
Juvéderm Volux
Achieve a defined, lifted and sculpted jawline with Juvéderm® Volux™ XC. It's first FDA-approved hyaluronic acid filler for improving jawline definition and provides more natural-looking results. By injecting hyaluronic acid to the jaw's soft tissues, we can improve the appearance of folds and jowls, create a more structured jawline and prevent future loss of definition.
Juvederm Volbella® XC
Volbella®, is intended for lips and fine lines. This thin, lightweight filler can be used to restore or subtly enhance lip volume and hydrate the lips, smooth vertical lip lines, soften marionette lines, and add a beautiful, balanced contour to the lips. Best of all, the results of a single injection session have been known to last up to one year, so patients don't have to return for periodic injections every few months to sustain their new, natural-looking lips.
RHA Collection
ReFresh Aesthetic Center
®

​ was one of the first aesthetic practices in Wisconsin to offer Resilient Hyaluronic Acid (RHA) and is an exclusive provider of the RHA® Collection in Milwaukee.

RHA is the latest advancement in HA filler science. The RHA portfolio of fillers was designed specifically for facial dynamics. We offer the full line of HA injectable fillers: RHA® Redensity, RHA®2, RHA®3 and RHA®4.
Sculptra Aesthetic
As a unique injectable that is a "bioactivator," Sculptra® does not just add volume to targeted areas, it also restores structure and stimulates collagen production, and can be used in both the face and body.
The gradual loss of collagen over time is a key reason a person's appearance begins to look aged. At about age 30, collagen loss begins to decrease elasticity and moisture. Sculptra is an aesthetic injectable that adds subtle volume, skin support, and structure to targeted areas of the face, and even the body. Regardless of age, patients who receive a Sculptra® treatment series will experience in their skin what we refer to as the "Sculptra Glow".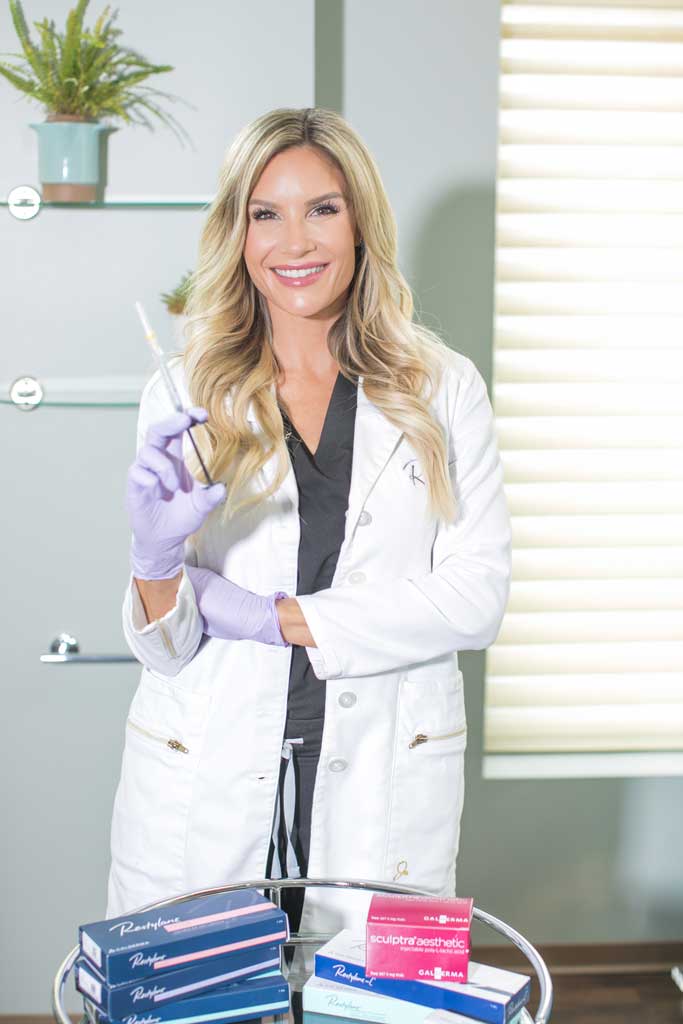 Restylane Family
Addressing a wide range of needs—from adding volume for precision contouring to softening lines to enhancing facial features—Restyalne represents even more choices for patients. Each option in the Restylane® family of dermal fillers is composed of hyaluronic acid, a substance that occurs naturally in your body.
Restylane® Kysse™
Restylane® Kysse™ is the first lip filler designed with XpresHAn Technology™, allowing flexible movement that results in lips that look and feel natural, even when making expressions. Whether you are looking for lip enhancement or simply to restore the lost structure, support, and hydration to your lips, Restylane Kysse™ can help you meet your lip goals.
Restylane® Lyft™
Restylane® Lyft™ is a facial rejuvenation procedure that restores volume and support, reduces wrinkles and folds, and gives you a younger appearance that is visible right away. Restylane® Lyft™ is a clear gel that can restore volume to the midface or other areas that may benefit from structure, contouring or enhancement.
Restylane® Defyne™
Lines and folds are inevitable as we age, but there are areas where we may be most aware of them, particularly in the lower face. Marionette lines are the lines that run from the corner of your mouth to your chin, and nasolabial folds run from the side of your nose to the corner of the mouth. Restylane® Defyne™ is formulated with XpresHAn Technology™ to target deepening expression lines. The unique cross-linking of the hyaluronic acid gel was developed to provide support to your facial expressions, resulting in natural-appearing results that still maintain your natural movement and contour.
Restylane® Refyne™
Get rid of static wrinkles with a recent addition to the Restylane® family. Refyne™ smooths the skin by adding vital hyaluronic acid (HA) back into the areas where its loss over the decades has caused the skin to dry out and wrinkles and lines to form. Formulated with the unique XpresHAn Technology™, Restylane® Refyne features cross-linked hyaluronic acid, which means the end results are natural looking.
Restylane® Contour™
With aging, we lose volume and definition to the midface. Restylane Contour is the only midface (cheek) filler with XresHAn Tehnolog y™ that restores your natural contour, allows for dynamic expression, and give you a refreshed look and feel. Balancing the science and art of aesthetics, this unique hyaluronic acid (HA) dermal filler results in natural appearing, subtly rejuvenated cheeks that are reminiscent of a younger you, but true to what makes you beautiful today.
Restylane®-L
This clear gel formulation of hyaluronic acid (HA) is specifically formulated to mimic your own body's own naturally produced HA, helping to visibly correct deeper wrinkles/folds. Restylane® was the very first HA filler to become FDA approved over 20 years ago. Today, many other HA fillers within the Restylane® family of fillers have replaced our use of Restylane® at ReFresh, yet, it is a classic filler, and we still have niches where we select it as our filler of choice.